SOLIDWORKS Electrical
Electrical design
SOLIDWORKS Electrical is a software solution that allows the production of electrical schemes. Further, in the same packet and without additional fees, you can do hydraulic, pneumatic schemes and P&ID schemes and diagrams for process plants. Drawing and defining symbols is intelligent and generating complete documentation for a project is automatic with many reports and constituents. The software works with DWG formatting, and contains classic 2D CAD tools, therefore the electrical engineer has one software that covers all their needs.
Unique to this software is the ability for electrical and mechanical engineers to work simultaneously through the Electircal 3D module which combines the 2D electro-scheme with the 3D model of the product in the SolidWorks 3D CAD software. This part of the solution is optional, but very important for companies that in their work have mechanical and electrical design. The existing 2D scheme is used as an entry to automatic component placement and development of conductors in a space in the context of a machine, device, electrical cabinet, or a whole facility!
SOLIDWORKS Electrical significantly speeds up the designing of electrical installations with efficient toold for intelligent scheming. A multi-user work environment is also supported, where the entire team can work together to create single-pole and multi-pole schemes, and automate the wiring of PLCs and terminals. The use of segments from existing projects is very simple, which notably diminishes work time.
What is SOLIDWORKS Electrical?
Discover how integrated electro-design tools can help you overcome everyday problems.
Electrical Schematic

The traditional approach to 2D design of electrical, hydraulic, pneumatic, process, and instrumentation (P&ID) installations with schematics backed by intelligent tools brings a new dimension to the user experience for efficiency, accuracy of data, and sustainable work in the project team.
Electrical 3D
Routing wires, cables, cable kits, and hoses has never been more efficient. The complete solution on the SOLIDWORKS platform brings together the previously incompatible worlds of electrical and mechanical engineering projects into a single collaborative environment.

SOLIDWORKS Electrical Solutions Areas of Application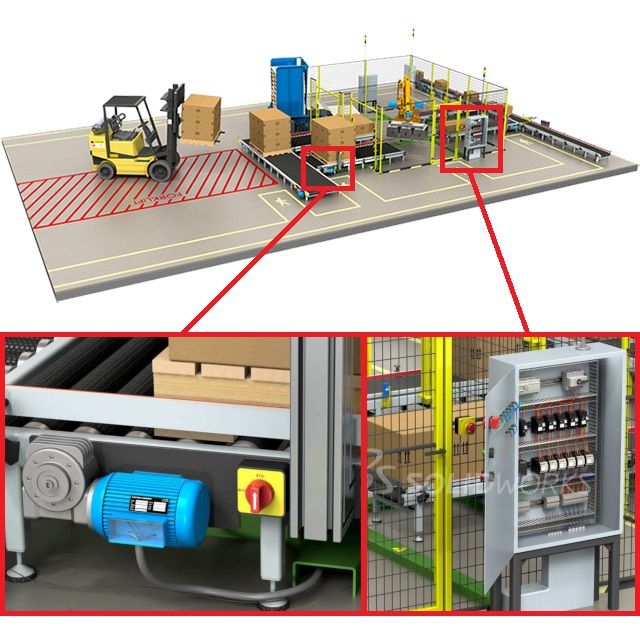 Production systems
As part of the SOLIDWORKS platform, meeting industry standards is a defining feature of the SOLIDWORKS Electrical solution for the design of electrical, hydraulic, pneumatic, process and instrumentation (P&ID) installations of production systems.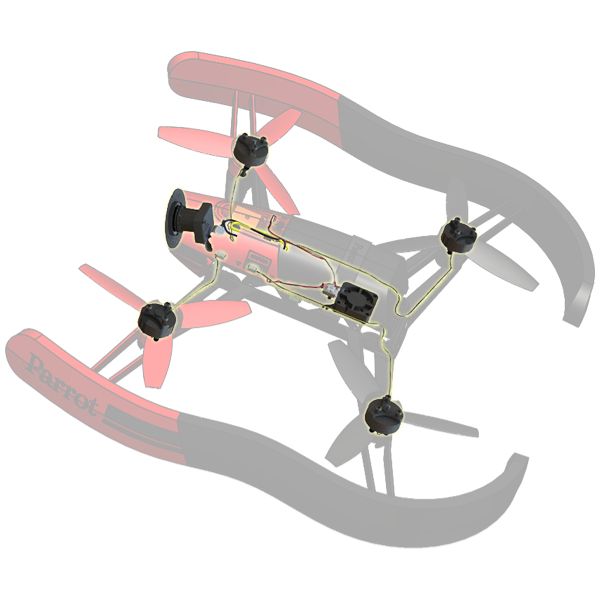 Mechatronic systems

SOLIDWORKS Electrical contains smart tools for designing complex multidisciplinary systems such as robotics systems, medical systems, dedicated systems, control, and measurement systems.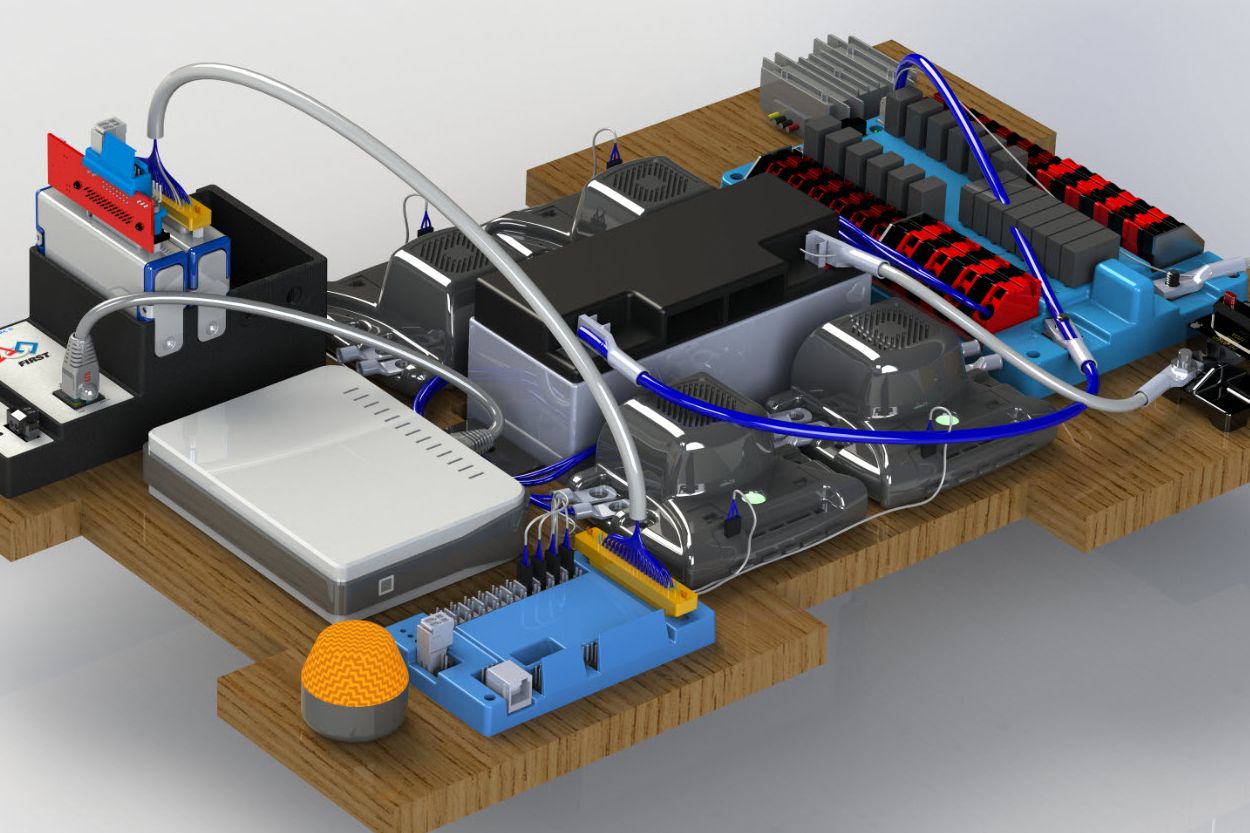 Embedded systems
SOLIDWORKS Electrical enables you to define the smallest details that are required when designing embedded systems applicable to Internet of Things (IoT), Home Automation, Toys, Consumer, Industrial, Medical, Automotive, Aviation equipment and many others.

Cable set systems - Harness
SOLIDWORKS Electrical has the complete tools for developing cable kits, known as harness, which represent the "bloodstream" of industrial and domestic appliances, cars, aircraft, military and specialty equipment.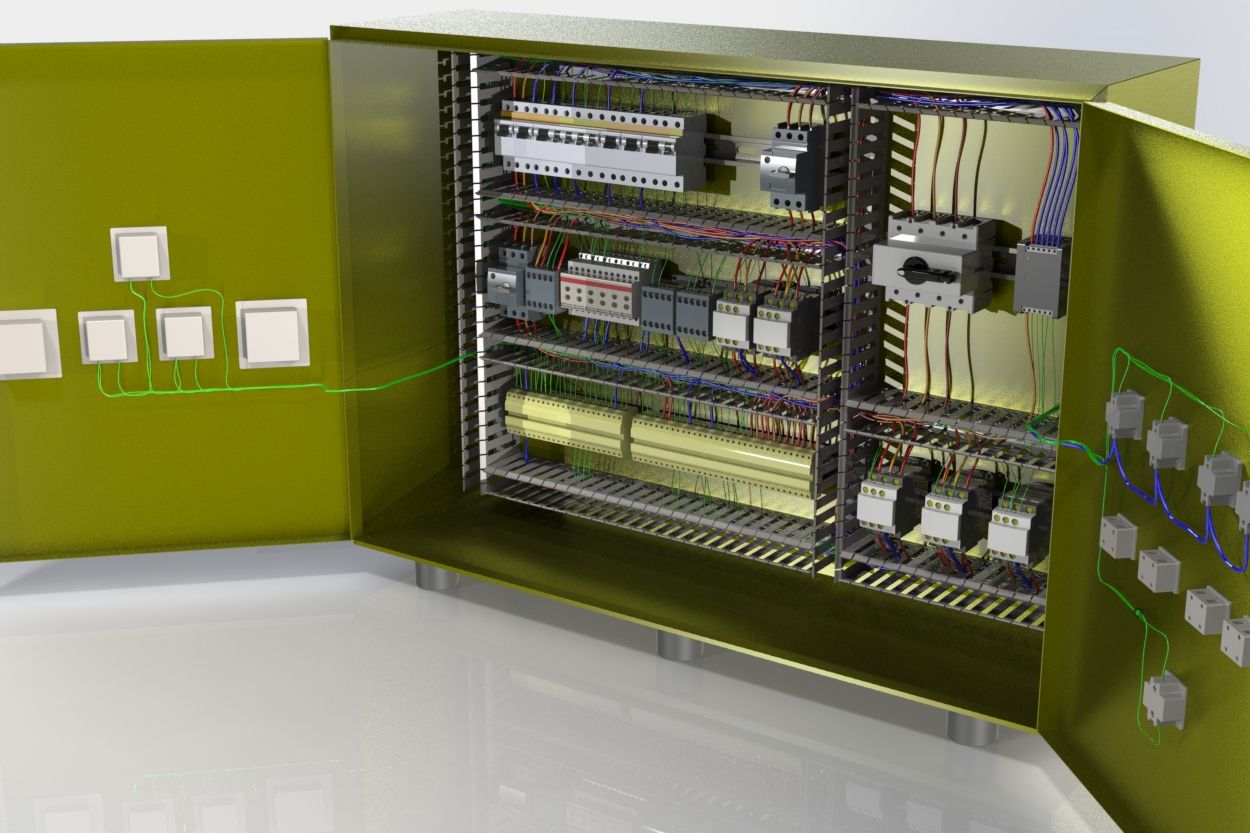 Electrical cabinet systems
Design control electrical cabinets, power cabinets, complete switchgear and transformer stations, and complete data centers.

A Work Demonstration in the SOLIDWORKS Electrical environment
SOLIDWORKS Electrical packages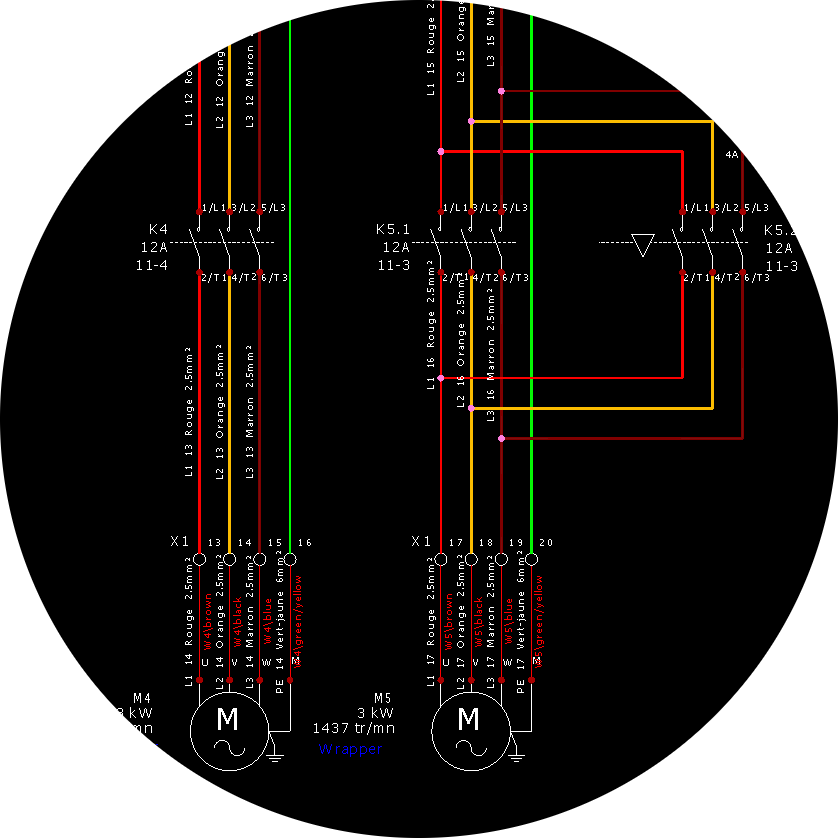 SOLIDWORKS Electrical Schematic Standard
The standard SOLIDWORKS Electrical Schematic software package enables you to design all types of installations, installation equipment, and other products quickly and efficiently using 2D single-line and multi-line diagrams, 2D cabinet views, and other intelligent tools. The software is a standalone environment designed for a single user.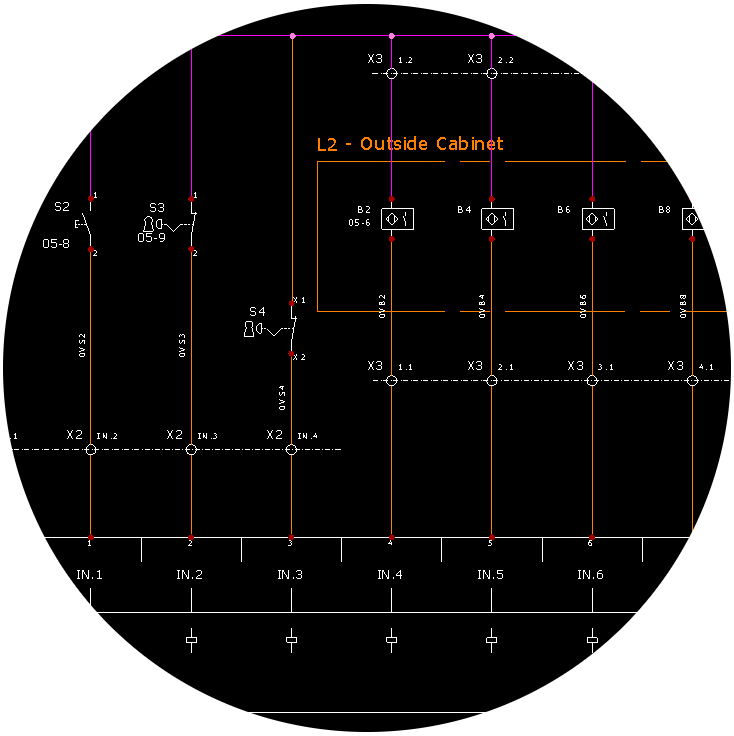 SOLIDWORKS Electrical Schematic Professional
In addition to the content of the Schematic Standard, the SOLIDWORKS Electrical package Schematic Standard provides an advanced level of integration with the PDM system, integration of the ECAD - MCAD collaboration environment in collaboration with the Electrical 3D package, automatic generation of PLC symbols directly from the database, as well as the ability to bind more users on project development.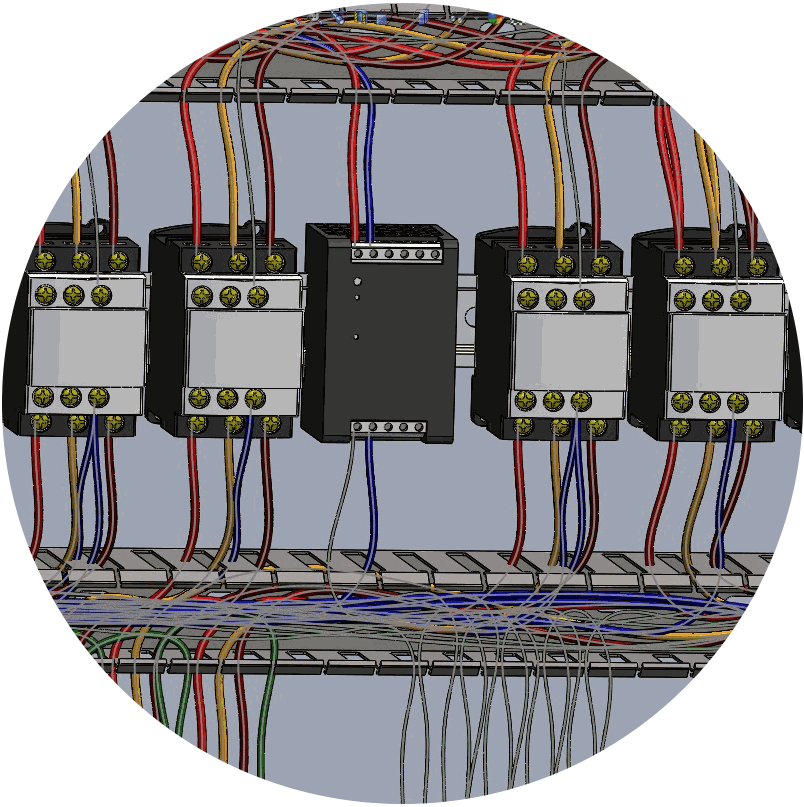 SOLIDWORKS Electrical 3D
SOLIDWORKS Electrical 3D as a software is an Add-In to the already known SOLIDWORKS 3D CAD software. Electrical 3D provides access to Electrical Schematic Professional projects to import components into a mechanical 3D assembly and, using known SOLIDWORKS Routing tools, automatically routes cables and conductors in synchronization according to the 2D scheme.
SOLIDWORKS Electrical Professional Bundle


SOLIDWORKS Electrical Professional is a sales configuration that includes Electrical Schematic Professional and Electrical 3D packages. The cost is lower than the separate purchase of said packages, but SolidWorks 3D CAD software is required as a base. This means that you must select the specific serial number of the SOLIDWORKS 3D CAD license to which the electrical functionality is permanently linked. This is a desirable configuration only when one person is running 2D schemes and positioning components in 3D space. When electrical and mechanical engineers have separate roles and work in parallel, these packages need to be procured separately.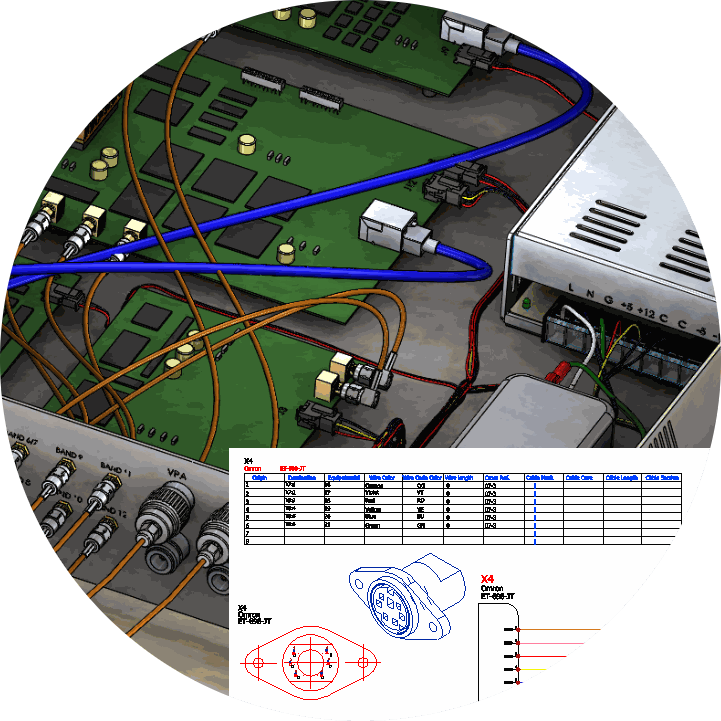 SolidWorks ECP - Electrical Content Portal
Besplatna biblioteka 3D modela komponenti svih vodećih proizvođača opreme i elemenata koji se najčešće koriste u elektroprojektima dostupna je SolidWorks Electrical korisnicima.
Najpopularniji proizvođači prema broju download-a sa ECP-a: Schneider Electric, Siemens, ABB, A-B Allen-Bradley, Rockwell Automation, EATON, Legrand, Omron, Phoenix Contact, Rittal, CHINT, Mitsubishi, itd.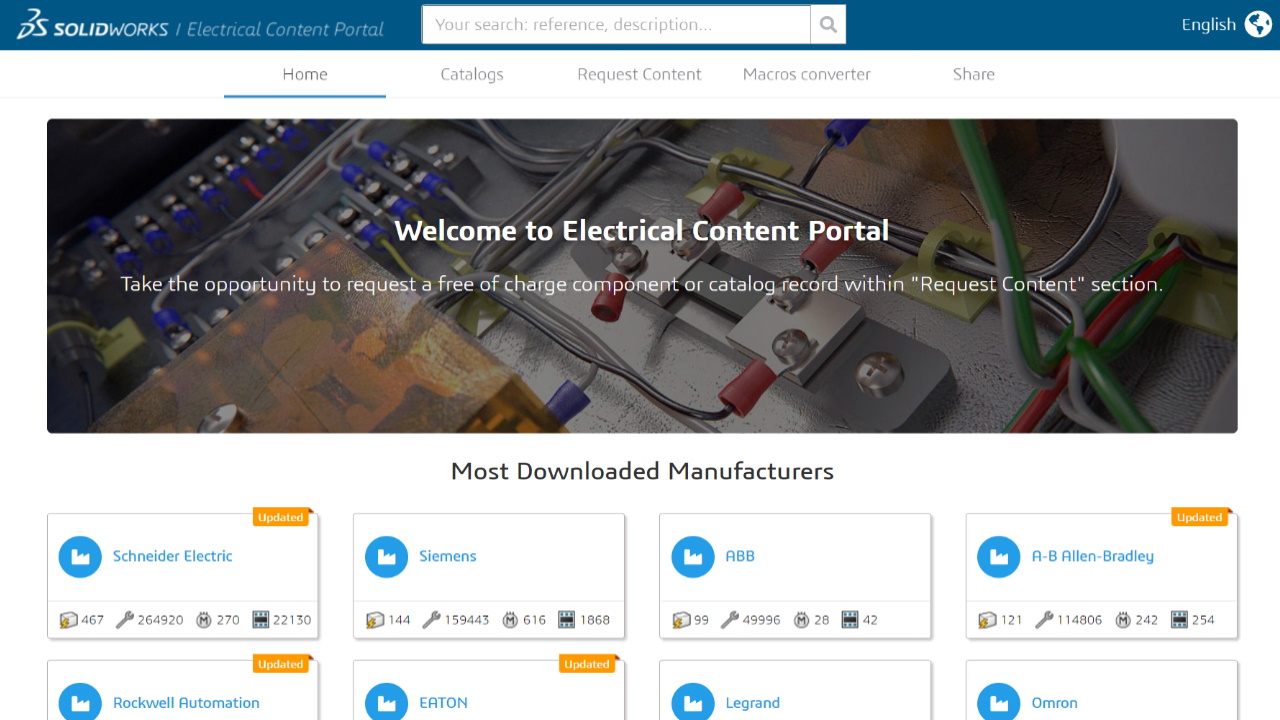 Know what you need?
With a click of a button you will be sent an offer
Management and team work in the development of electro-mechanical systems
Solidworks pdm and electrical integration
SOLIDWORKS Electrical PDM connector
a unique source of the truth about your products
SOLIDWORKS PDM is a solution that enables the entire company to access documentation and information in the electrical, machine, and electronic (PCB) domains all in the same work environment. Everyone can see all the changes at all levels in real time. All non-technical services can access comprehensive documentation, components, instructions, and other information necessary to design the product, procure components and materials, plan and organize production, and support the service. Ultimately, the entire system is kept under control through a continuous look at deadlines, resources, quality, and budget.