SolidCAM
Najrasprostranjeniji CAM softver za programiranje CNC mašina u Srbiji!
Kada kupujete softver za programiranje CNC mašina, izaberite softver sa kojim ćete:
skratiti vreme pripreme

čuvati rezni alat

ubrzati mašine

imati obezbeđenu obuku na srpskom

imati lokalnu tehničku podršku na srpskom

imati rešene postprocesore
Novi SOLIDCAM 2023 - Preuzmite kompletnu brošuru!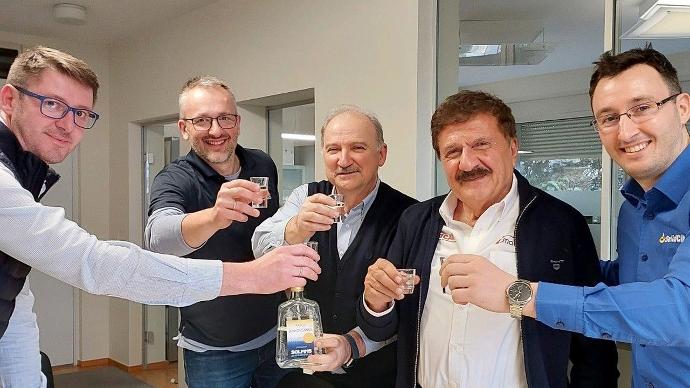 Solfins i SolidCAM partnerstvo traje preko 15 godina!
Foto: Emil Somekh, osnivač i vlasnik kompanije SolidCAM, zajedno sa Danijelom Đuricom, menadžerom za globalnu podršku kompanije SolidCAM, u poseti Solfins timu u Beogradu početkom 2023. godine.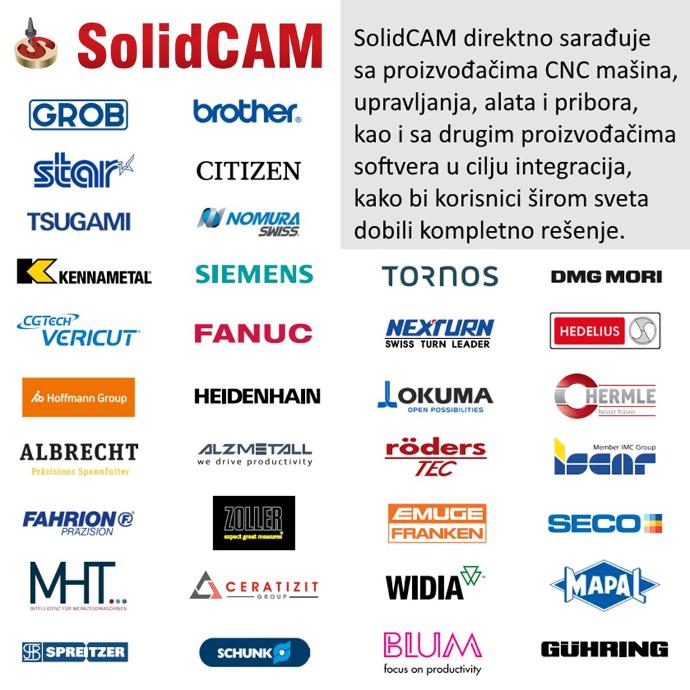 SolidCAM partneri
Grob, Brother, Star, Citizen, Tsugami, Nomura, Kennametal, Siemens, Tornos, DMG Mori, VeriCUT, Fanuc, Nexturn, Hedelius, Hermle, Okuma, Heidenhain, Hoffmann Group, Albrecht, Alzmetall, Roders, Iscar, Seco, Emuge Franken, Fahrion, Zoller, MHT, Ceratizit, Widia, Mapal, Spreitzer, Schunk, Blum, Guhaing, itd.
Solfins SEMINAR
SolidCAM 2022
Upoznajte kompletan softver sa svim modulima i saznajte kako SolidCAM može da ubrza vaše mašine, sačuva vaše alate, i uštedi stotine sati godišnje za programiranje CNC mašina.
Pogledajte primere delova i odgovarajuće obrade, odnosno SolidCAM modula koji se primenjuju zavisno od vaših tipičnih komada, strategija koje primenjujete i tipova mašina koje imate na raspolaganju..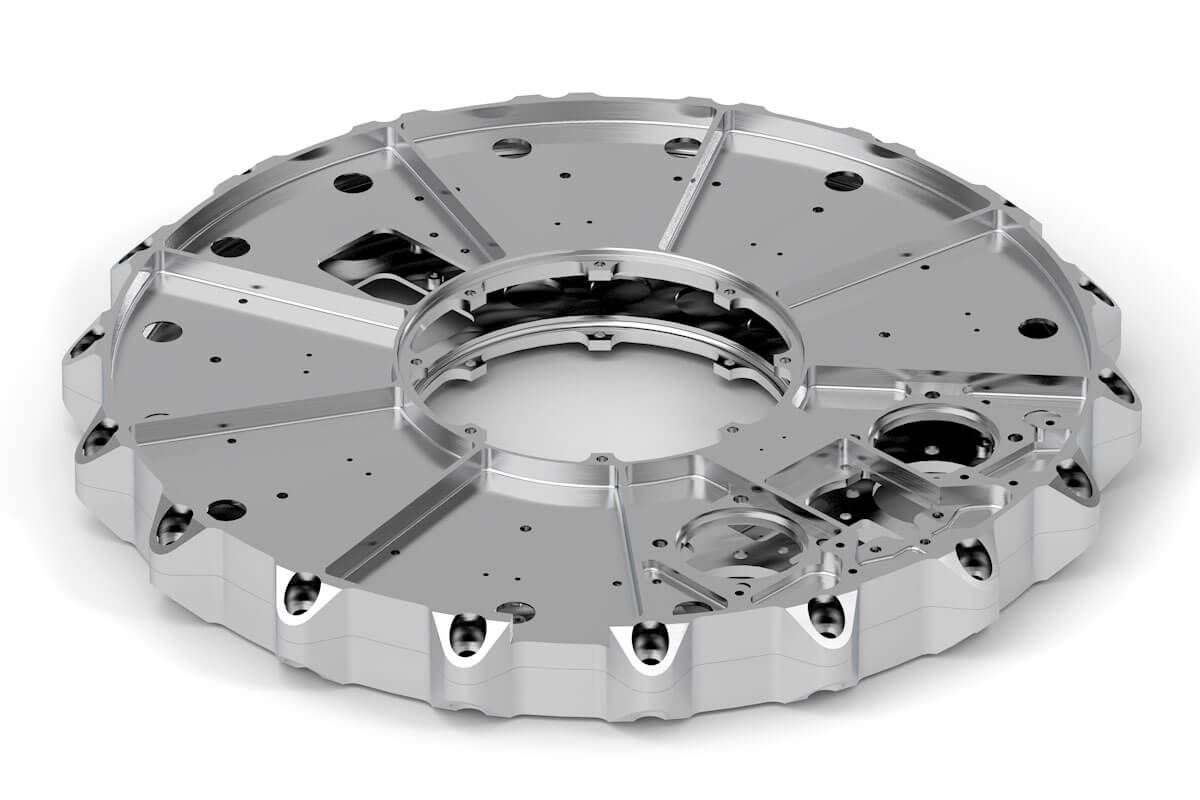 The Most Powerful & Easiest-to-Use CAM System for Creating 2.5D CNC Milling Tool Paths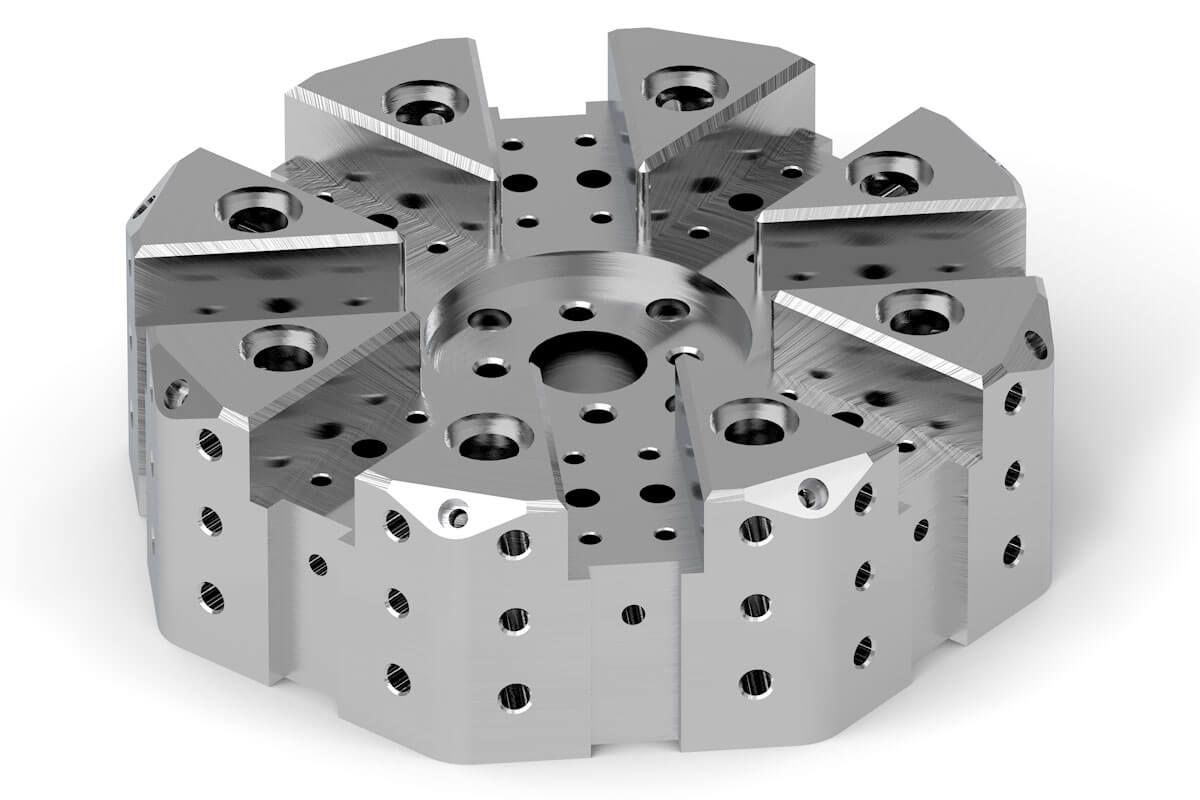 SolidCAM provides powerful Automatic Feature Recognition and Machining capabilities, complementing its powerful 2.5D Milling capabilities.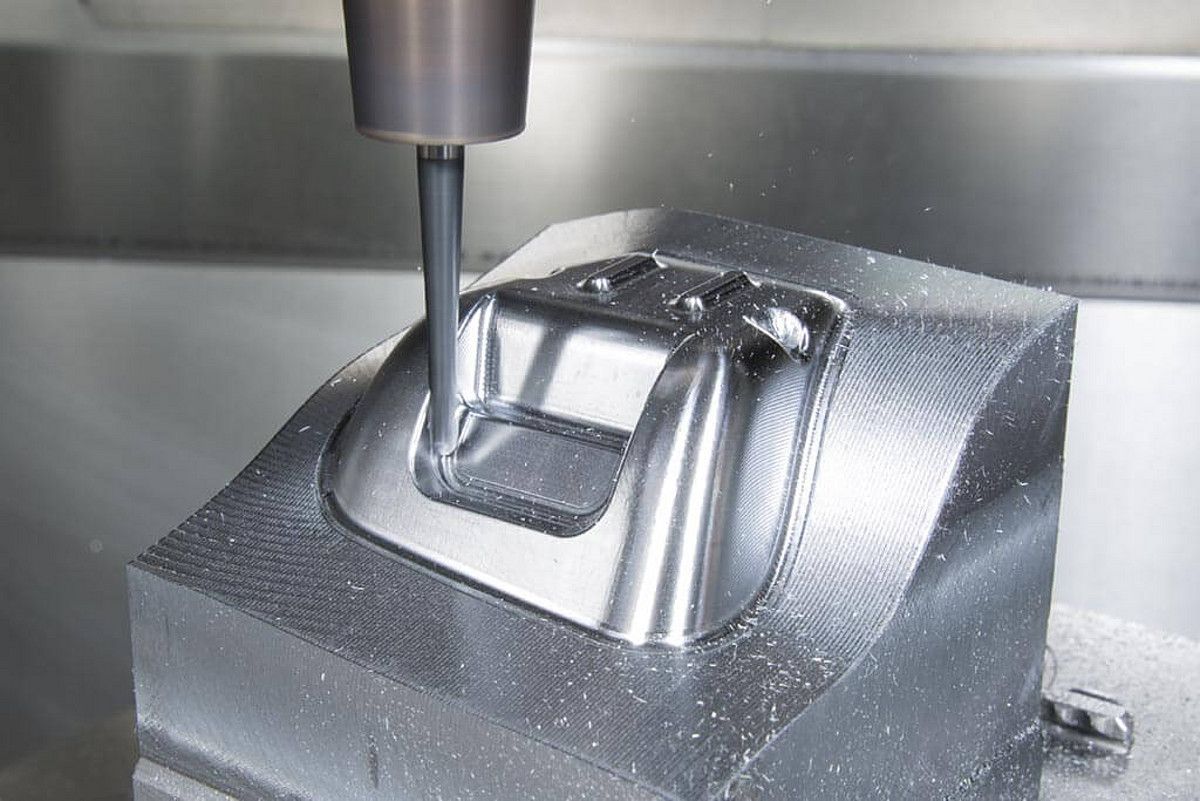 High Speed Surface Machining of Localized Surfaces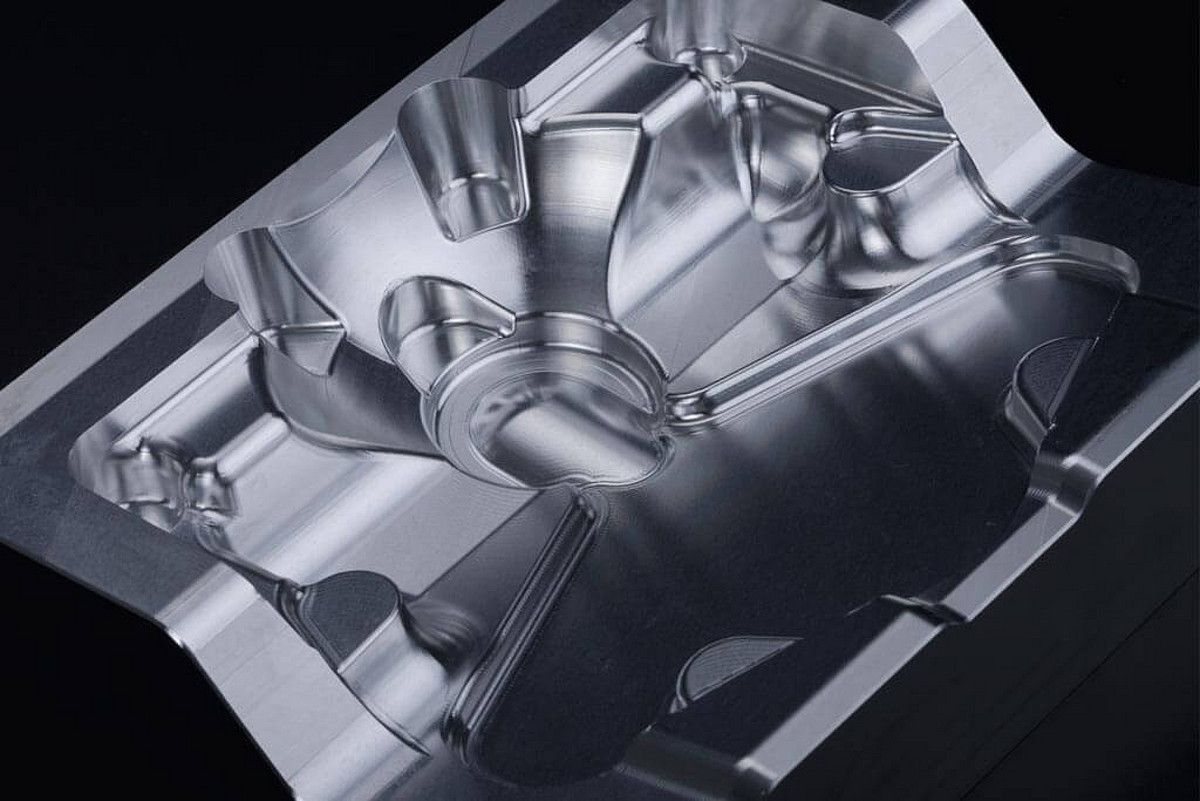 Powerful Roughing & Finishing Tool Paths for 3D Machining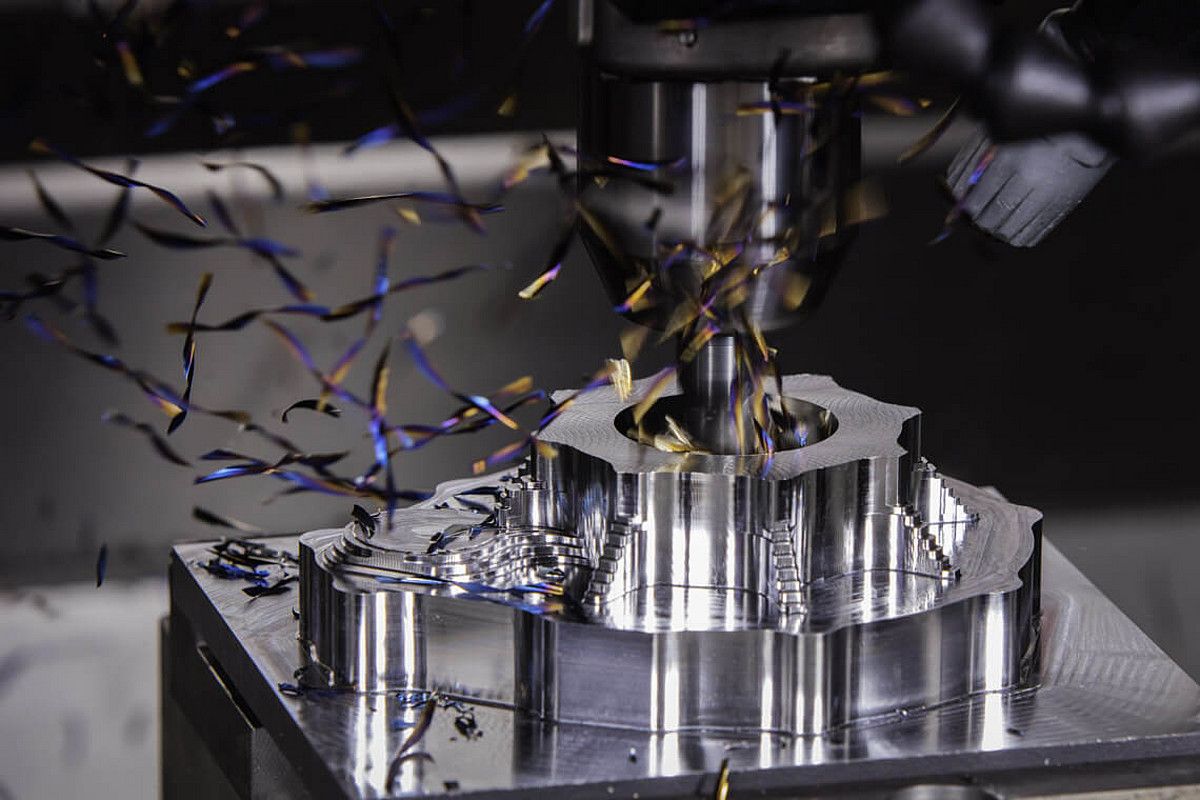 Put the knowledge and experience of hundreds of CAM and CNC masters in the palm of your hand, as the iMachining Wizard and Tool Path take you to an entirely new level of CNC performance!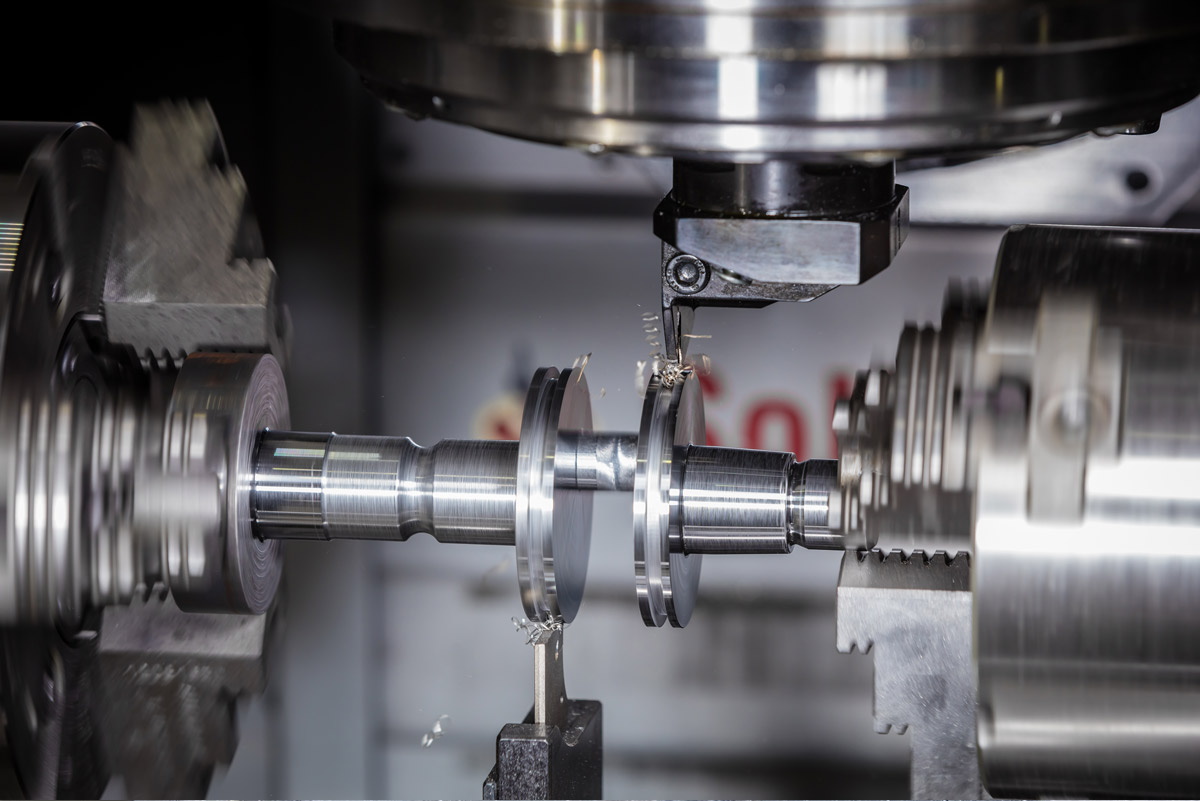 Spoljašnje/Unutrašnje struganje, obrada žljebova, narezivanje spoljašnjih/unutrašnjih navoja, bušenje, odsecanje.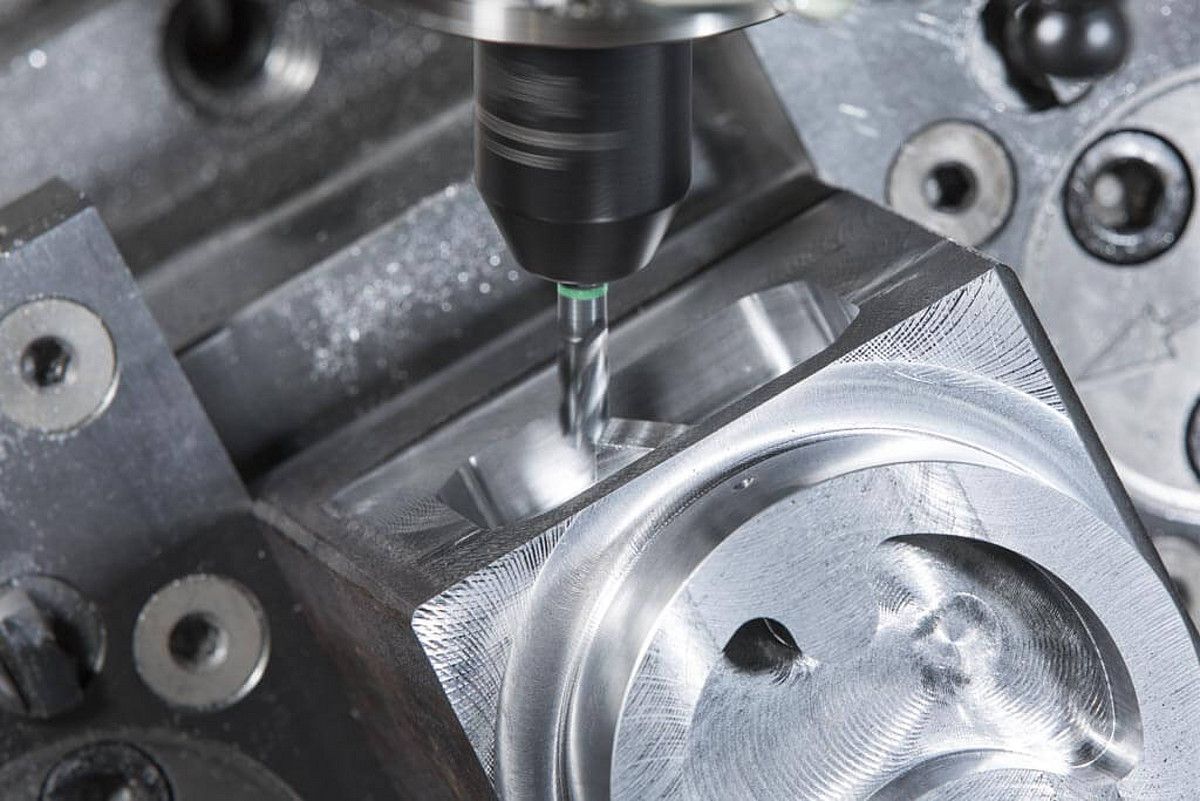 The Most Powerful & Easiest-to-Use Coordinate System Definition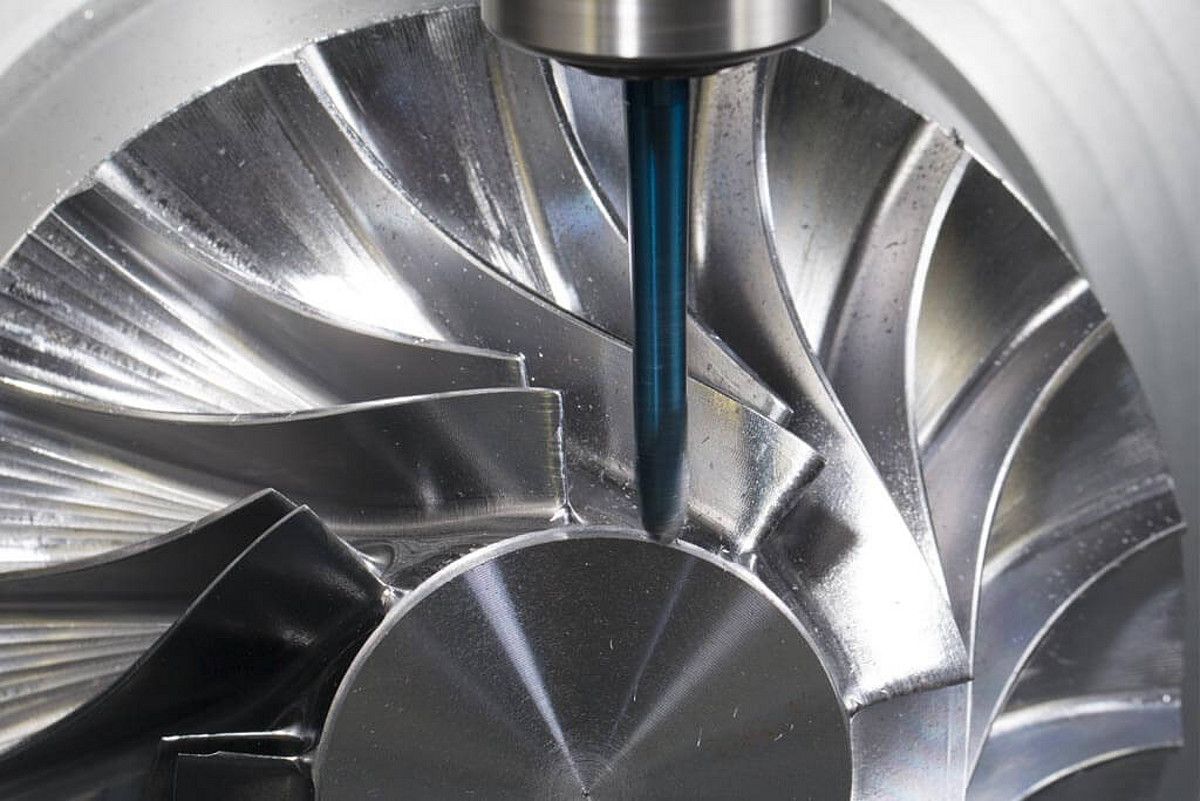 Benefit from the most highly tested and proven 5-axis CNC milling tool paths in the industry, with a very straight-forward user interface and the most advanced control over all aspects of tool path and collision checking.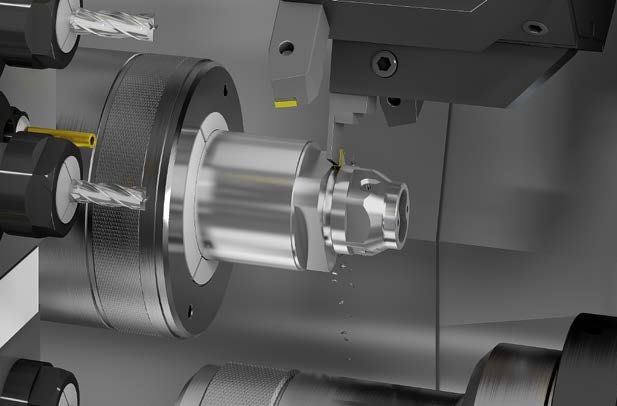 Get the Most Out of Your High-End Multi-Tasking CNC Machines, including Swiss-type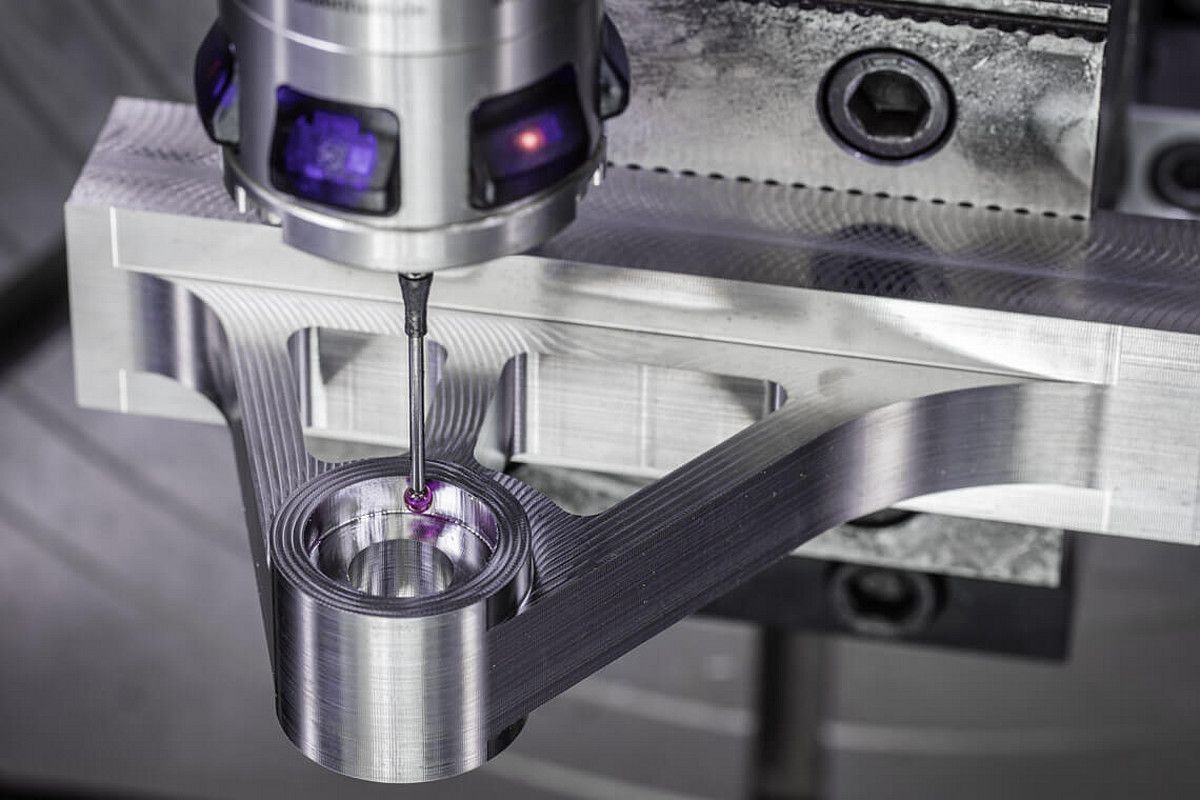 The Essential Module for Tool Setup & On-the-Spot Measurement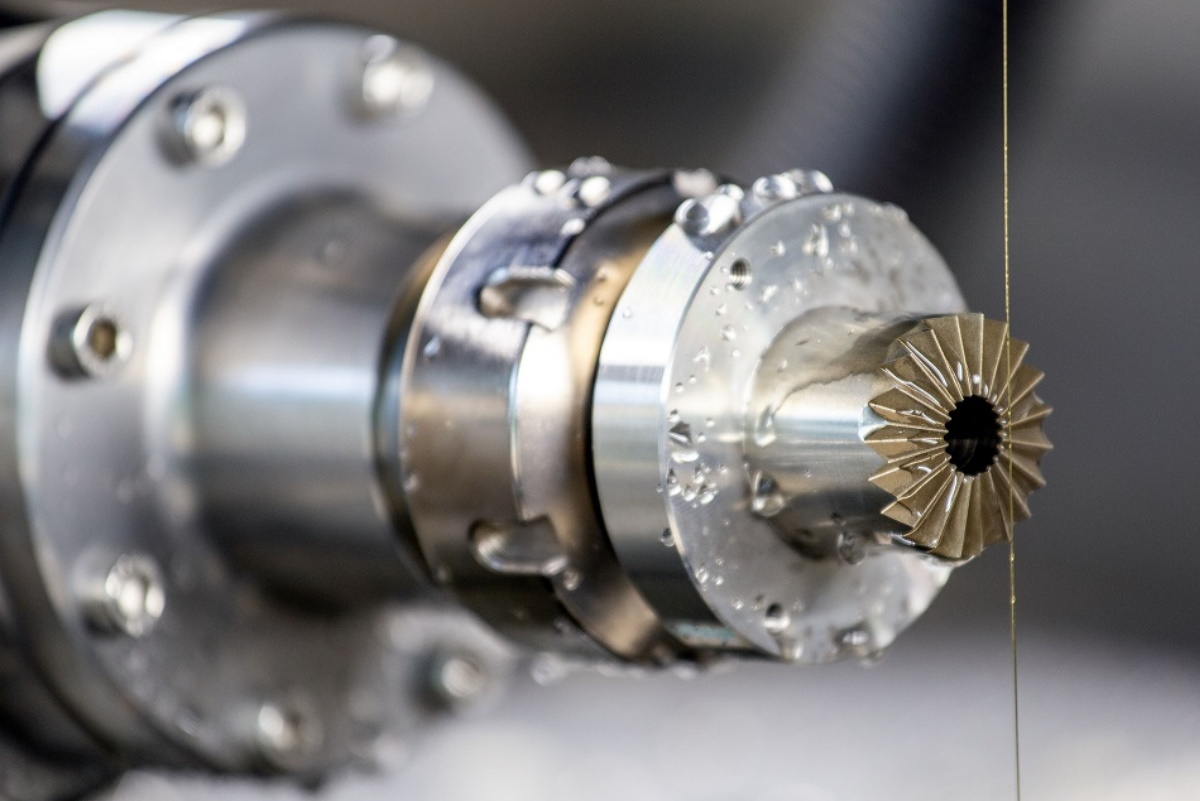 Programiranje mašinske obrade erozimatom sa žicom.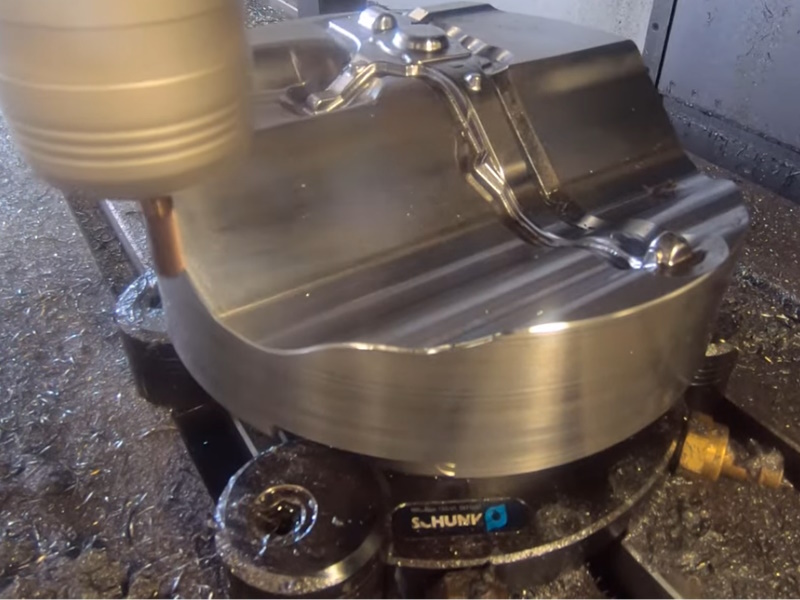 Specijalizovan modul za automatsko skidanje pucni od troosne do petoosne obrade.
What SolidCAM provides to your machines and your business?
SolidCAM – The Leading Integrated CAM Solution with the Amazing iMachining Technology
Get the 'Best-in-Class' CAM Solution for Efficient & Profitable CNC-Programming Inside Your CAD
SolidWorks Integration
Works right inside your favorite 3D CAD: Seamless integration in SOLIDWORKS.
Saves time and frustration!
Eliminates import/export challenges
Gets you up to speed fastest!
Extremely short learning curve because you're already familiar with SolidCAM's interface since it runs right inside your CAD system
SolidCAM works in the CAD assembly mode to graphically show Fixtures, Tooling & Vices in simulations

SolidCAM grows as you grow!

SolidCAM is scalable with packages for all CNC machine types and applications
SolidCAM gives you the most for your money!

The integrated CAD/CAM-Solution SOLIDWORKS + SolidCAM is available at a competitive bundle-price

Besplatno testiranje modula i iMachining tehnologije

SolidWorks korisnici koji nemaju CAM rešenje, ili imaju samo neke od SolidCAM modula, ali i korisnici koji nemaju ni odgovarajuće CAD rešenje, mogu preuzeti besplatnu verziju svih SolidCAM modula, zajedno sa iMachining tehnologijom, i testirati 60 dana - See more >

What can Solfins do for you?
Implementation, training, and support
SolidCAM is great, but Solfins professional services can additionally boost your company productivity and machine performance. Our clients can confirm many cases where we managed to achieve 50% and more of an increase in operations and speed per machine. That means that you can produce more with the same number of machines, in the same building, with the same people...

Software tailoring and implementation for your needs

Certified training for your engineers
Continuous technical support during software usage will guarantee that your machines will work in full capacity while your staff solve post-processor and software issues and developments.

Post-Professor Development
Solfins delivers high-quality specialized post-processors for NC code (G-code, Heindenhein, WoodWop), ready to be sent to your machine without further improvements and changes. Our post-processor can solve most of your demands. G-code can contain complete information about operation, times, tool paths...

Reduce communication issues between tech people and CNC operators.

Centralized tech data base for:
Tools and tool paths
Materials with embedded matching tools and tool paths
Repeated operations
Raporting based on your company standards:
List of tech operations and manufacturing times
Cutting plans
Cutting tools with all relevant information embedded