Automatically create control plans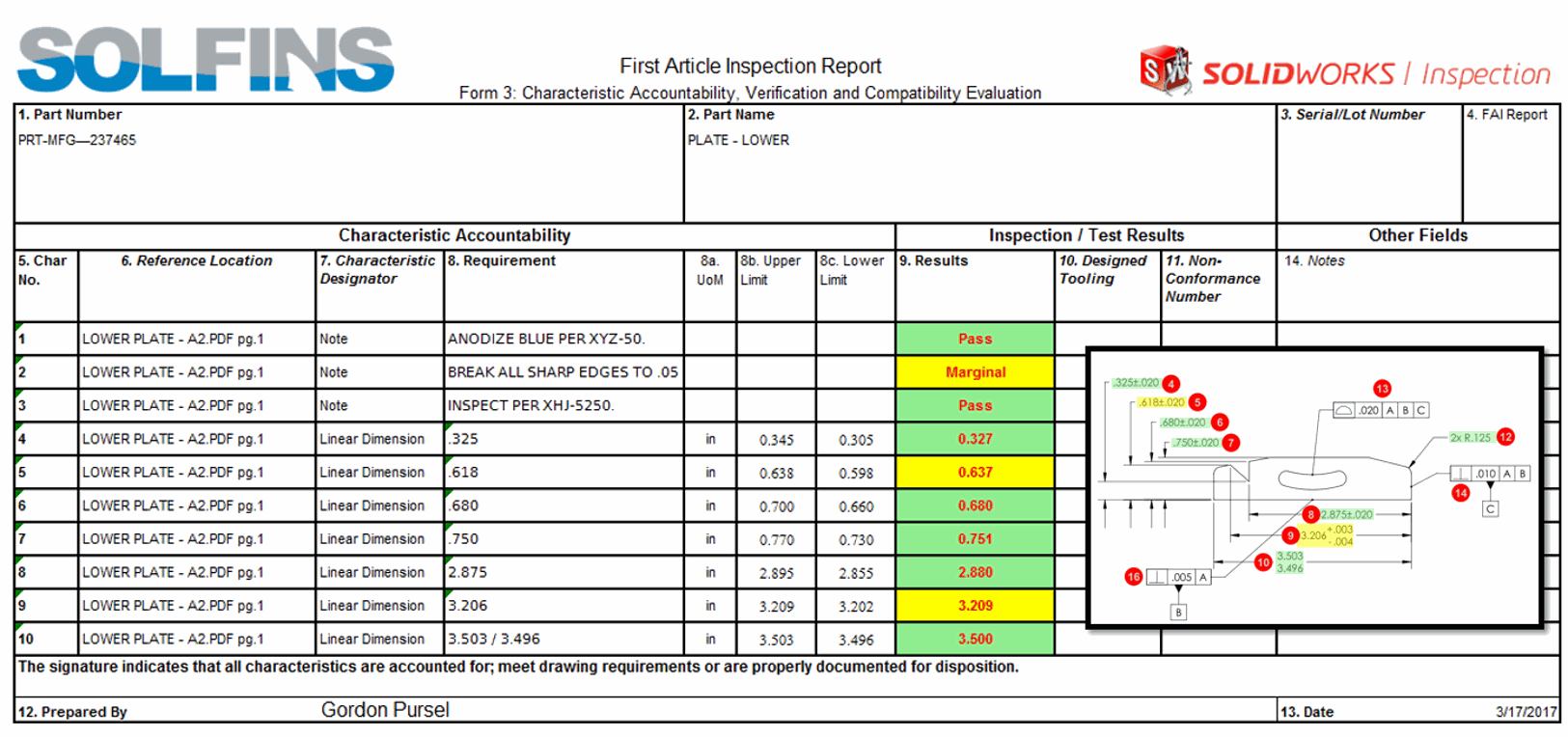 SolidWorks Inspection
SolidWorks Inspection software is used in quality control processes to create control plans that it transforms into intelligent systems for measuring records and statistical data processing.
The software enables the automated creation of FAI-First Article Inspection, PPAP, AS9102, and any other reports you want to have in your production and quality control processes.
SolidWorks Inspection allows you to get the quality that your customers demand using the least amount of resources.
The most successful companies are those that can plan the level of quality because that is how they make the most profit. Flawless quality has its price, while poor quality inevitably leads to customer loss.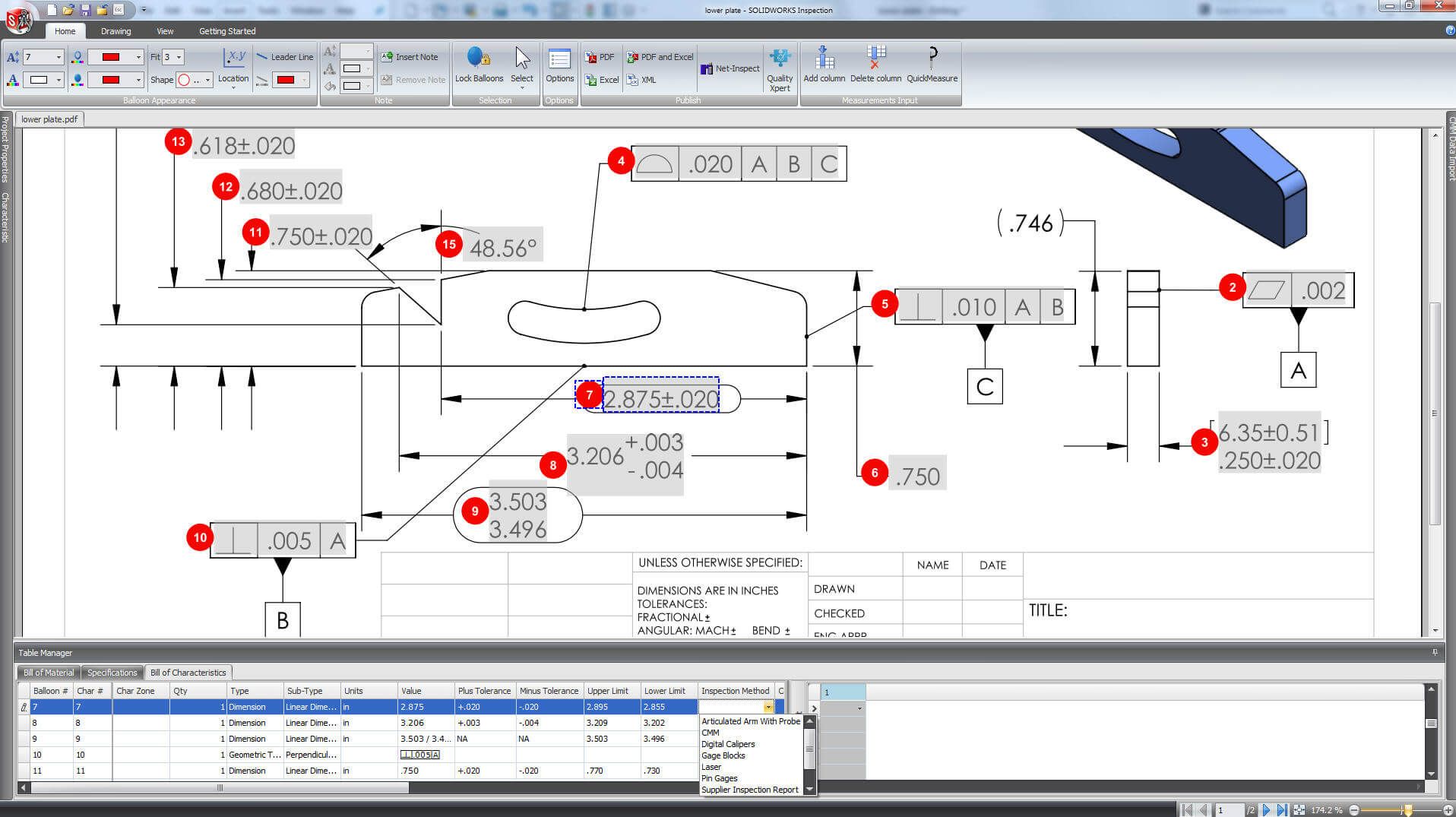 A standalone application
SolidWorks Inspection is a standalone application that is independent of CAD software and that reads all formats in which the documentation appears. Control documentation can also be created from old scanned documentation, because SOLIDWORKS Inspection has OCR technology that automatically recognizes text, numbers, and tolerances from technical drawings. When PDF, TIFF or native CAD and neutral 3D formats are available, the job is faster and more automated.
There is also support for 3D PMI information from native CAD applications or for the STEP 242 format. This means that you can "balloon" the angles on a 3D model and create inspection reports without a single drawing!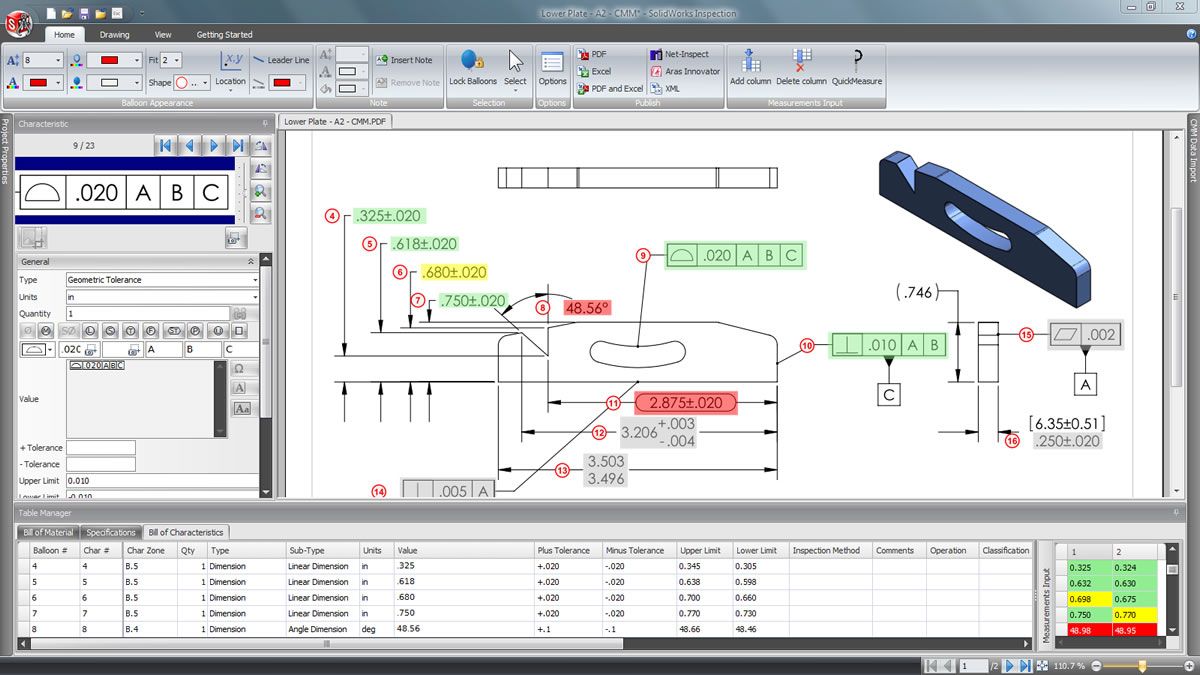 Application in individual production
SolidWorks Inspection is used both individually and in batch production. Due to the automation of work, it is also easy to use when one or only a few parts are made. Since it can be integrated with coordinate measuring machines (CMM), it provides automation in terms of creating a CMM machine programming plan and automatically comparing it with measured values where then a measurement report is obtained. Have you ever done expensive parts that have been returned to you by customers for refinement? It is one thing to have someone measure and control the parts, and another to have a plan and proof of measured values!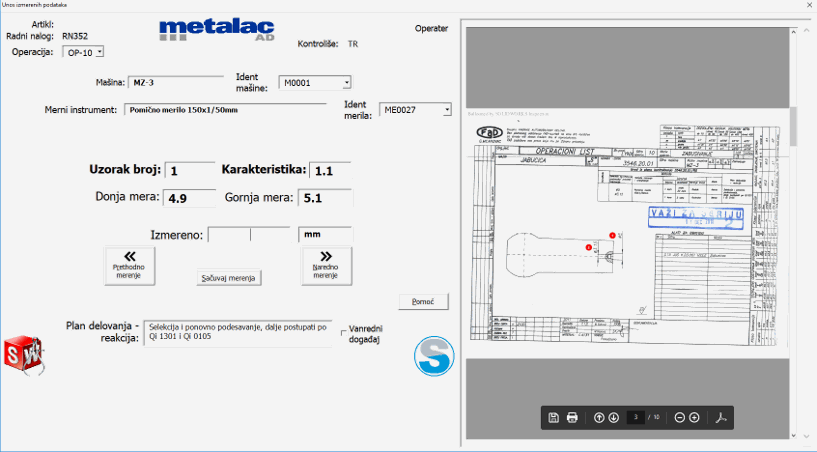 Application in serial production
In batch production, it is possible to define, on the basis of batch size, statistical parameters (AQL-Acceptance Quality Limit), a minimum number of samples in process and final control to achieve the expected quality by the customer or the market. Quality control is an expensive operation that increases the price of a product. The essence of our software is to enable you to see which technological operations in your company have stable quality and how to reduce control to a minimum in this regard. You also find out which operations are critical for where mistakes are being made or which machines, people, or measuring accessories most often lead to errors. A gut feeling is not enough to manage the quality of a product. Only exact data leads to savings and making the right decisions!
All the information contained in the control plan through an additional application developed at Solfins can be used for (process or final) fully automated control with statistical processing of the measurement results.
A first look at SOLIDWORKS Inspection
A standalone application and SOLIDWORKS integration
SOLIDWORKS Inspection - what do the new versions bring?
SOLIDWORKS Inspection packages
SOLIDWORKS
Inspection Standard
The Basic Inspection Package contains advanced tools and functionalities for automated control documentation creation
Automated creation of control documentation

Add-In integration with SOLIDWORKS
Standalone Inspection application
Export data to PDF, Excel and XML

Create SOLIDWORKS Inspection templates
SOLIDWORKS
Inspection Professional
The Professional Inspection package contains everything that the Standard package does, but also has support for coordinate measuring machines and control devices
Automated data entry into Inspection software from coordinate measuring machines (CMM) and control devices (digital micrometer, digital scroll meter ...)
Automated data entry from PC-DMIS, Calypso, FARO CAM2 software ...
The measured values are automatically compared with the nominal values and color coded
Support for 3D annotation and ballooning features on a 3D model
Export in 3D PDF
SOLFINS S-QMS
Inspection
Softversko rešenje koje omogućava evidenciju i statističku obradu podataka u proizvodnji, na bazi plana kontrole kreiranom u SolidWorks Inspection paketu.

A client application for production records
Defining the base of machines, people, controls, and gauges
Management of the control process based on batch size, criticality of the measures themselves, and AQL or some other sampling principle.
Defining a database of contingencies and corrective action

SolidWorks PDM integration
Statistical data processing (Cp, Cpk), drawing XR diagrams, predicting rejections...

Know what you need?
WITH A CLICK OF A BUTTON YOU WILL RECEIVE AN OFFER FOR THE DESIRED PRODUCT